Yellow is a bright summer color that can work well on heels if done right.  With yellow it is very important that the right shade is chosen so it does not look like someone threw up on your feet.  This color is very popular on summer wedges since it is a typical image associated with this time of year.
How to Wear Yellow Heels
Elements that make up a yellow heel
You can find yellow on everything from stilettos and flats to sandals and wedge heels.  This color comes in many shades from a light sunny yellow to a more orangey citron color.  I feel that this color looks the best on wedges, sandals and standard high heels.
Occasions yellow heels can be worn for
Typically the color yellow is associated with summer and spring but I feel that it is fine to wear this color all year long to add a pop of color to your wardrobe.  I would avoid wearing this color to formal events since it can sometimes look a little young or juvenile.
What to wear yellow heels with
Yellow heels would work great with a long maxi dress or a flowy summer skirt.  It can either be paired with other bright colors or with neutrals to add in that pop of color.  Since this color is so bright I would pair it with lighter more neutral colors for a day time look or pair it with other bold neon and bright colors for a night time look.  With yellow since there are so many shades it is hard to match the exact shade to other yellow items in your wardrobe so I would be very choosy when adding yellow to your outfits and stick to just one or two yellow items.
Shoe Inspiration
This yellow mustard color goes great with the medium wood colored heel and sole.  Michael Antonio designed this shoe and it is only $65.
Neon colors are a big hit this season and this citron color works well with this basic sandal.  The studs on the straps give the shoe some added personality.  This yellow sandal by Frye shoes is currently on sale for $145.
I love designers that mix together bright colors with fun prints and fabrics such as this yellow shoe with sequin accents by Naughty Monkey.   You can get this yellow heel on sale for $64.50.
Don't you love yellow on wedge shoes?  This pair by Luichiny comes in a suede fabric and is $90.
I still can't decide if the color on these Jessica Simpson heels looks to much like big bird or not but they sure do pop and will get you noticed.  These shoes come in at $90.
If you're not into heels flats are still a trendy option to get you noticed.  I love the metal cap toe on this pair by Restricted.  This pair will run you $60.
This is one of my favorite examples of a yellow wedge.  This shade of yellow is not too bright but not too dark either.  The zipper detail in the back is a nice touch.  This wedge by Michael Antonio comes in at $60.
I love it when designers like Luichiny  add metal accents into their shoes.  The metal detail added at the toe adds a modern feel to this heel.  This shoe is $85.
Guess makes some great affordable shoe options like this light yellow sandal with a cork sole.  This yellow heeled sandal is $55.
Neon colors have been talked about a lot this year so why not add it into your wardrobe with this bright neon yellow shoe by Mia Limited Edition for $90.
This heeled sandal is more of a orangeish citron color but it still looks fine on this strappy sandal by Promise shoes.  This yellow heel is very affordable at $50.
Kristen Cavallari has created a very wearable yellow heel with a side cutout.  This fun shoe will run you $125.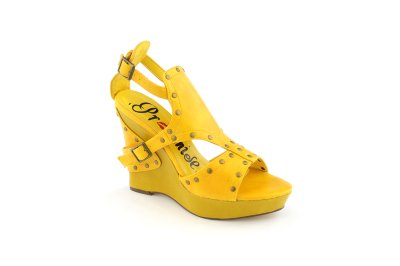 I love cheap shoes because you do not feel bad once you wear them out instead you have more money saved for more pairs.  This yellow wedge by Promise is at the low price of $23.
Here is another great yellow wedge option.  This wedge by Sheikh comes in at $22.
I love prints with a southwestern twist like the print mixed with the yellow color on this wedge.  This option by Bamboo comes in at $30.
People Wearing Trend
I love Naya Rivera's look that she put together mixing the bright yellow heel with a bold blue pencil skirt.  The cropped shirt and fun colored heels keep her looking youthful.